DESCRIPTION
SPECIFICATIONS
OPTIONS & ACCESSORIES
APPLICATIONS
DESCRIPTION
FEATURES
The LQ215-D is built on the basis of a laser produced for aerospace industry and combines excellent beam quality required for advanced scientific research and a highest reliability of industrial equipment.
EXCELLENT BEAM QUALITY

1064 NM OR 532 NM OUTPUT WAVELENGTH

BEAM POINTING STABILITY

DUST- AND WATER-PROOF DESIGN

RELIABILITY OF INDUSTRIAL EQUIPMENT

COMPACT SINGLE PHASE POWER SUPPLY

NO NEED FOR EXTERNAL WATER
DESCRIPTION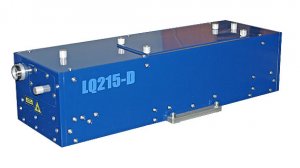 The design of conventional lasers generating dual pulse is based either on combining two lasers or on successive generation of nanosecond pulses by one active element during one flash lamp discharge pulse. The first solution allows to build a system with the maximum capabilities for the user but leads to increase of its cost and dimensions. The second approach allows to create low-cost and compact systems but leads to reduction of each pulse energy and of laser beam profile worsening and stability as well as limits the delay range between the pulses.
The LQ215-D design demonstrates advantages of both the variants but eliminates their disadvantages: output radiation is generated by two separate cavities while both the Nd:YAG rods are installed in one pump chamber and are pumped by one flash lamp. Both the cavities are integrated into a common laser head controlled by a common power supply that provides to the user minimum dimensions and convenience in controlling dual pulse parameters.
Original and reliable optical scheme ensures compensation of both astigmatism and thermooptical distortions and places at your disposal laser radiation of the highest quality.
One more peculiarity of the laser optical scheme is that all the components operate at loads considerably lower than the admissible values. Such a smooth operation mode not only increases life time of the components but also ensures unique operational reliability of the whole laser. As a result, you can use the LQ215-D laser for your experiments day-to-day and year-to-year having forgotten about repairs and other unpleasant operation costs.
All the laser optical components are installed on a rigid base fixed to the housing with specially developed dampers. Due to this, mechanical vibrations and housing stress no way influence the quality of the cavity alignment.
All the critical components of the laser are thermally stabilised which in combination with vibration-proof design ensures unsurpassed long-term output radiation stability. The efficient thermostats used in the LQ215-D ensure warm-up time of less than 10min.
To reduce your time expenses on routine service of the LQ215-D we provided flash lamp life time of more than 50 million pulses and foreseen easy and quick procedure of its replacement.
It should be noted that the laser design allows to replace the flash lamp without removing the laser head upper cover. Such a design concept considerably reduces risks of the optical components contamination as well as increases operational reliability of the device.
Closed-loop water-to-air cooling system is integrated into a compact single-phase laser power supply which can be controlled both from PC and via the remote control unit.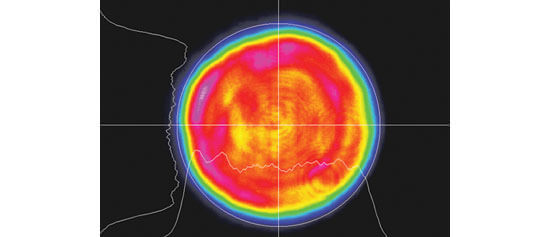 Typical LQ215-D laser beam profile at 1064 nm. Near field
SPECIFICATIONS
OPTIONS & ACCESSORIES
APPLICATIONS
SOLARLS的所有資訊來自SOLARLS網頁,所有版權歸SOLARLS,繁體字版權屬安均科技。