DESCRIPTION
SPECIFICATIONS
OPTIONS & ACCESSORIES
APPLICATIONS
DESCRIPTION
FEATURES
The LQ830 is a new model of lamp-pumped Nd:YAG laser possessing unique laser radiation characteristics: linewidth of less than 0.1 cm-1, low angular divergence of less than 0.25 mrad and high pulse energy up to 700 mJ at 1064 nm.
TEM00, M2 < 2

OSCILLATOR-AMPLIFIER CONFIGURATION

HIGH PULSE ENERGY UP TO 0.7 J

DIVERGENCE OF 0.25 MRAD

HIGH-POWER RADIATION IN THE VIS AND UV RANGES

ALL THE HARMONICS AVAILABLE UP TO 213 NM

COMPACT SINGLE-PHASE POWER SUPPLY

NO EXTERNAL WATER REQUIREMENTS
DESCRIPTION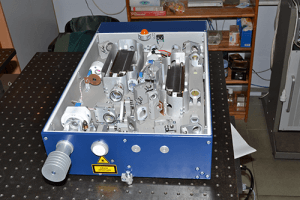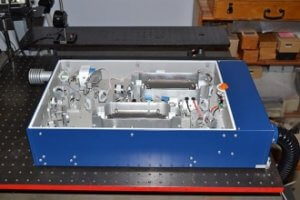 Master oscillator with high-stability ring cavity, preamplifier and high-power amplifier form at the laser output TEM00 diffractionally limited beam with high pulse energy and Gaussian profile in the far field.
High spectral radiation brightness with linewidth not more than 10pm and high coherence length of more than 10 cm is ensured by intracavity Fabry-Perot interferometer.
All the critical components of the laser are thermally stabilised which in combination with vibration-proof design ensures unsurpassed long-term stability of output radiation. The efficient thermostats used in the LQ830 ensure warm-up time of less than 10 min.
To reduce your time expenses on routine service of the LQ830 we provided flash lamp life time of more than 30 million pulses and foreseen easy and quick procedure of its replacement.
Closed-loop water-to-air cooling system is integrated into a compact single-phase laser power supply which can be controlled both from PC and via the remote control unit.
SPECIFICATIONS
OPTIONS & ACCESSORIES
APPLICATIONS
SOLARLS的所有資訊來自SOLARLS網頁,所有版權歸SOLARLS,繁體字版權屬安均科技。