DESCRIPTION
SPECIFICATIONS
SPECTRA
DESCRIPTION
FEATURES
The SHR-IR spectrometer is an ideal instrument for measuring absolute wavelength value of pulse and CW lasers and diodes in the spectral range from 600nm to 1800nm with accuracy better than ± 15pm, as well as detecting FWHM of the analyzed line.
SPECTRAL RANGE FROM 600NM TO 1800NM.

ACCURACY BETTER THAN ± 15PM.

SPECTRUM & FWHM ANALYSIS.

COMPACT DESIGN; NO MOVING COMPONENTS.

OPTICAL FIBER INPUT; DIFFUSE ATTENUATOR.

IDEAL FOR MEASURING WAVELENGTH OF PULSED AND CW LASERS.
DESCRIPTION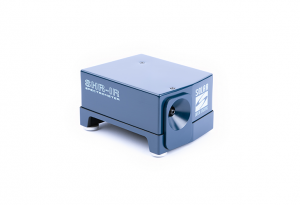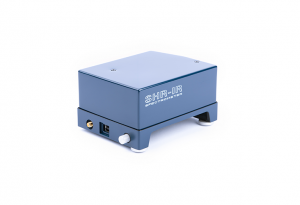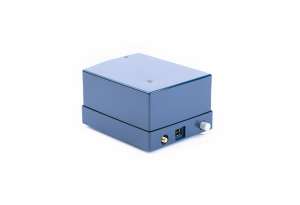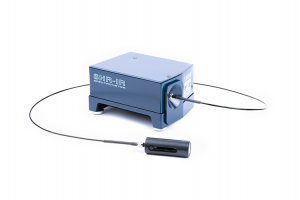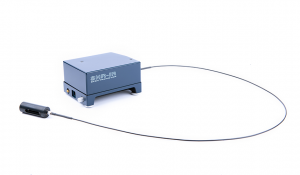 Apart from wavelength measuring the SHR-IR provides demonstration of analysed spectra with resolution of 4 000 (λ/Δλ, FWHM) which constitutes from 0.15nm for 600nm to 0.5nm for 1800nm. The SHR-IR also ensures on-line monitoring of the above values in the process of tuning the analysed wavelength.
The instrument does not contain any moving elements; powering and control are performed from a computer via the Full-Speed USB interface. Analysed light is steered to the entrance slit either via a multimode optical fiber with a diffuse attenuator (included in the delivery set) or directly, without any fibers.
In respect of resolution and wavelength measuring precision the SHR-NIR is an alternative to a monochromator-spectrograph with focal length not less than 500mm, equipped with an appropriate IR-detector.
But unlike the monochromator, the SHR-NIR has no moving elements and provides real-time measurements without scanning. The SHR-IR is rigid, stable and accurate, ensures absolute reliability and has more reasonable price.
The SHR-NIR spectrometer is indispensable in the process of adjustment, alignment and testing of laser systems operating in the near IR spectrum range.
SPECIFICATIONS
SPECTRA
SOLARLS的所有資訊來自SOLARLS網頁,所有版權歸SOLARLS,繁體字版權屬安均科技。