DESCRIPTION
N SPECIFICATIONS
OPTICAL BENCH FEATURES
DESCRIPTION
FEATURES
ArcTune is a compact, easy to use, powerful and effective tunable lightsource. ArcTune delivers spectral output of milliwatts of energy tunable in spectral range from 250 to 2500 nm with selected bandwidth.
OPTICAL POWER – DOZENS OF MILLIWATTS;

SPECTRAL RESOLUTION UP TO 0,1 NM;

OZONE-FREE ARC XENON LAMP POWERARC™;

EFFECTIVE ELLIPSOIDAL REFLECTOR;

AUTOMATED MONOCHROMATOR M150I (OR M266I);

POWER DENSITY CALCULATOR FOR THE SELECTED SPECTRAL RANGE AND RESOLUTION (DIGITAL EVALUATION);

ACHROMATIC OBJECT GLASS FOR COLLIMATED OUTPUT BEAM;

ACHROMATIC CONDENSER FOR FIBER LAUNCHING;

EASY IN OPERATION
DESCRIPTION
ArcTune design is based on wide-aperture monochromator M150i or M266i by SOLAR Laser Systems and unique xenon 75W or 150W lamp PowerArc™ by HORIBA Scientific.
Sealed PowerArc™ housing is air tight and not air cooled. Hence there is no ozone generation within lamp housing. 75W lamps do not require water cooling as well.
Unique ellipsoidal reflector within xenon lamp PowerArc™ collects up to 70% of the radiant energy from the arc lamp, versus only 12% for typical condenser systems in vertical lamp housings. The ellipse literally wraps around the arc lamp, collecting 5 to 6 times more output power than a conventional system.
Monochromator's choice (compact M150i or multifunctional M266i) allows to optimize the required optical power and spectral resolution of the lightsource system and its degree of automation as well. Both monochromators are provided in Imaging modification with astigmatism correction.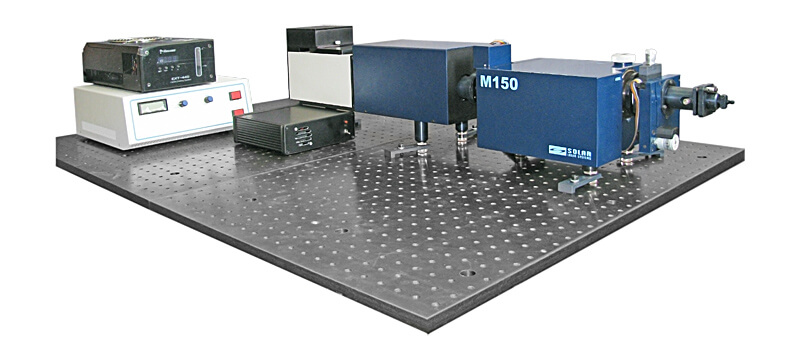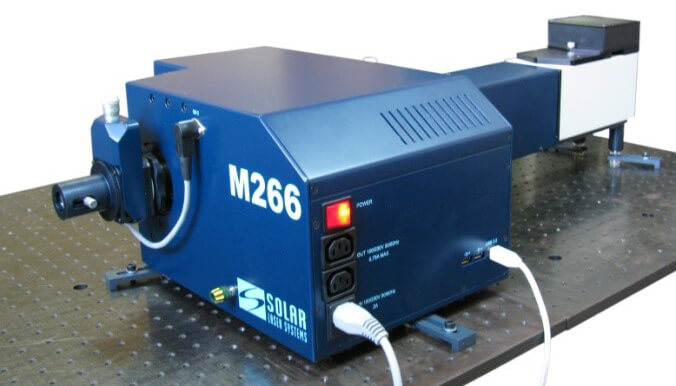 Monochromator M266i is fully automated, it can contain up to 4 diffraction gratings; the focal length is twice than that of M150i. It enables to open the slits two times wider for the selected bandwidth of the spectral range and thus to increase 4 times the output optical power.
Bundling with monochromator M266i versus M150i allows to increase twice the spectral resolution, or to increase four times the output optical power.
Monochromator M150i — effective and compact, can be supplied with 1, 2 or 3 diffraction gratings, with an option of slits type selection: automated slits with slightly tunable width or a bundle of replaceable slits with fixed width for manual setting.
Continuous spectral output in range from 250 nm to 2500 nm produced by arc xenon lamp PowerArc™ is presented in the figure below. Spectral specifications of the tunable lightsource ArcTune depend on the selected diffractional grating for the specified spectral range.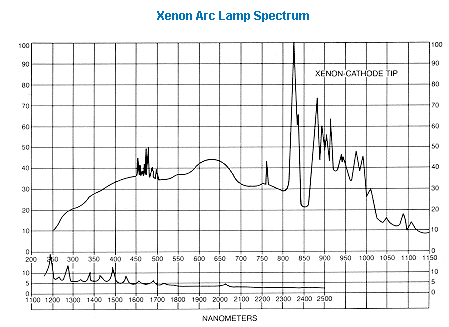 Continuous spectral output produced by arc xenon lamp PowerArc™
APPLICATIONS
Applications for the ArcTune Lightsource cover a broad range of scientific, OEM and research applications. These illuminators are the light sources of choice for a variety of spectroscopy systems.
Fluorometry

Spectrometry

Tunable Illuminators

Detector calibration

Photochemistry

Photo-Activation

Photobiology

Ellipsometry

Photovoltaics

Microscopy
N SPECIFICATIONS
OPTICAL BENCH FEATURES
SOLARLS的所有資訊來自SOLARLS網頁,所有版權歸SOLARLS,繁體字版權屬安均科技。